To supply and equip 200 workers houses and office facilities for a cement factory project

KEY CHALLENGES:
Timeframe - all buildings to be installed and ready for use within 2 months of arrival on site. Large and unfamiliar workforce tasked with installing the buildings locally. Strict local code to be adhered to for MEP while also coming under budget.

OUR APPROACH:
Designed economical, smart spaces to fit the client's brief. Arranged for an LC to facilitate the client's desired payment terms. Shipped all the bundles and containers to Doha under CIF terms. Arranged manufacture of custom-made open balconies with glass balustrades. Designed and installed unique flashing and parapets. Sent a team to supervise 70+ local assembly/construction workers.

OUTCOME:
All buildings were supplied on time and within budget. The operations offices were completed on schedule, allowing a major piece of national infrastructure to open as planned.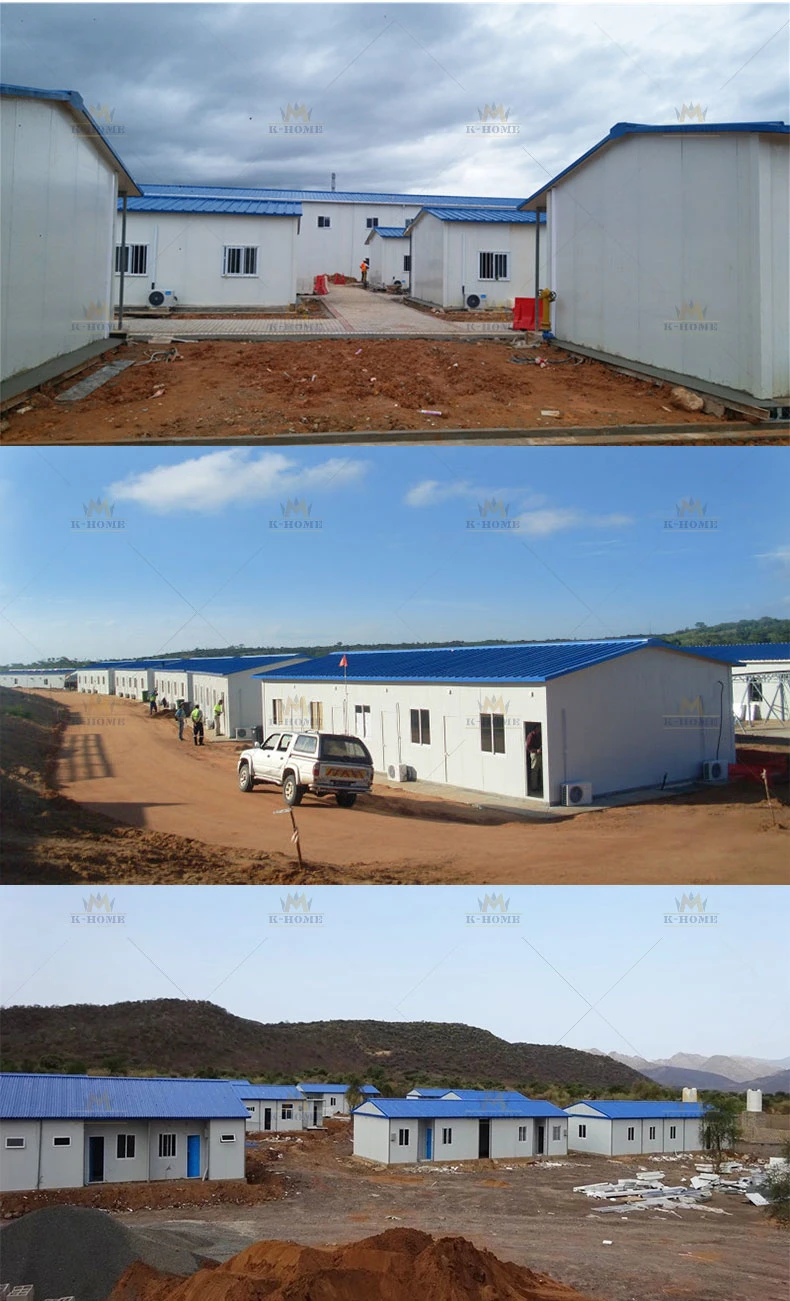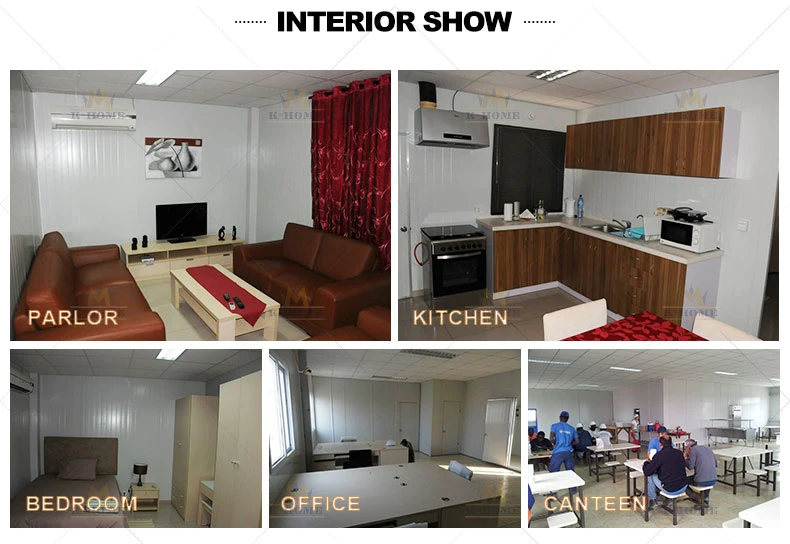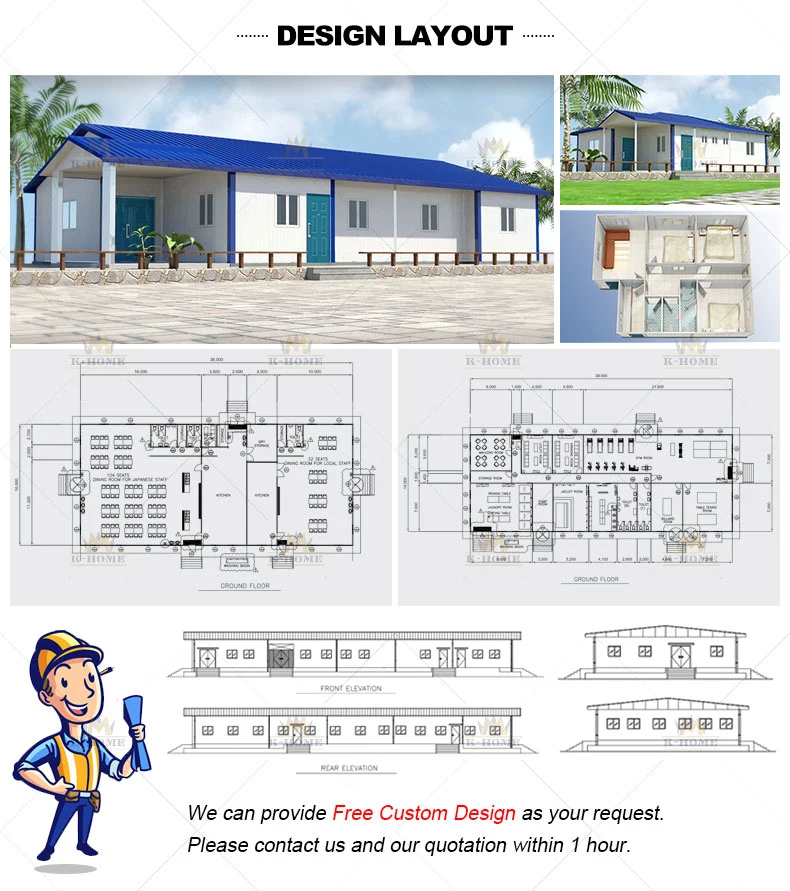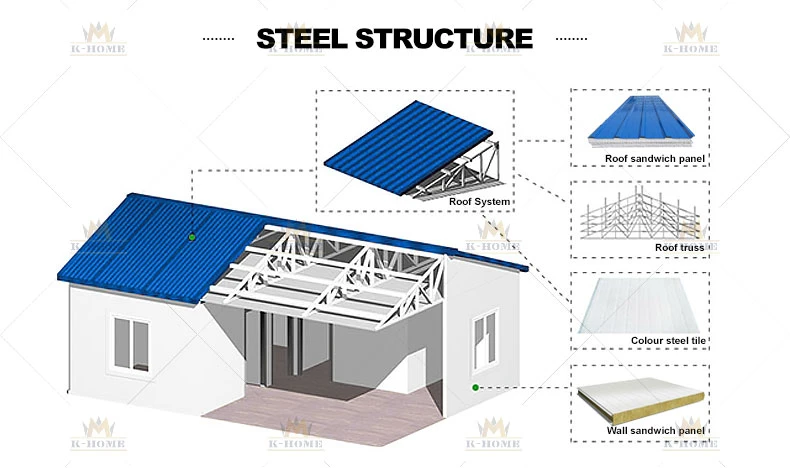 No.

Name

Single Story T-type Prefab House

Two Story T-type Prefab House

1

Ground groove, stuck groove

1.2mm galvanized shaped steel

1.2mm galvanized shaped steel

2

Column

80# square steel tube / 14# C type Steel

80# square steel tube / 14# C type Steel

3

Around beam

100# Square steel Tube

100# Square steel Tube

4

Floor Beam

-

150 C type steel & double 120 C type Steel

5

Floor purlin

-

120 C type steel

6

Roof main beam

100mm square steel tube roof structure

100mm square steel tube roof structure

7

Roof secondary beam

80mm square steel tube roof structure

80mm square steel tube roof structure

8

Stair

-

C 160*50*20*2 & 3mm steel plate

9

Walkway plate

-

3mm steel plate

10

Wall panels

50mm EPS sandwich panel/glass wool sandwich panel

11

Partition panels

50mm EPS sandwich panel/glass wool sandwich panel

12

Roof panels

50mm EPS sandwich panel/glass wool sandwich panel

13

Floor plate

-

15mm chipboard

14

Window

Plastic steel window/ aluminum window

15

Door

Steel door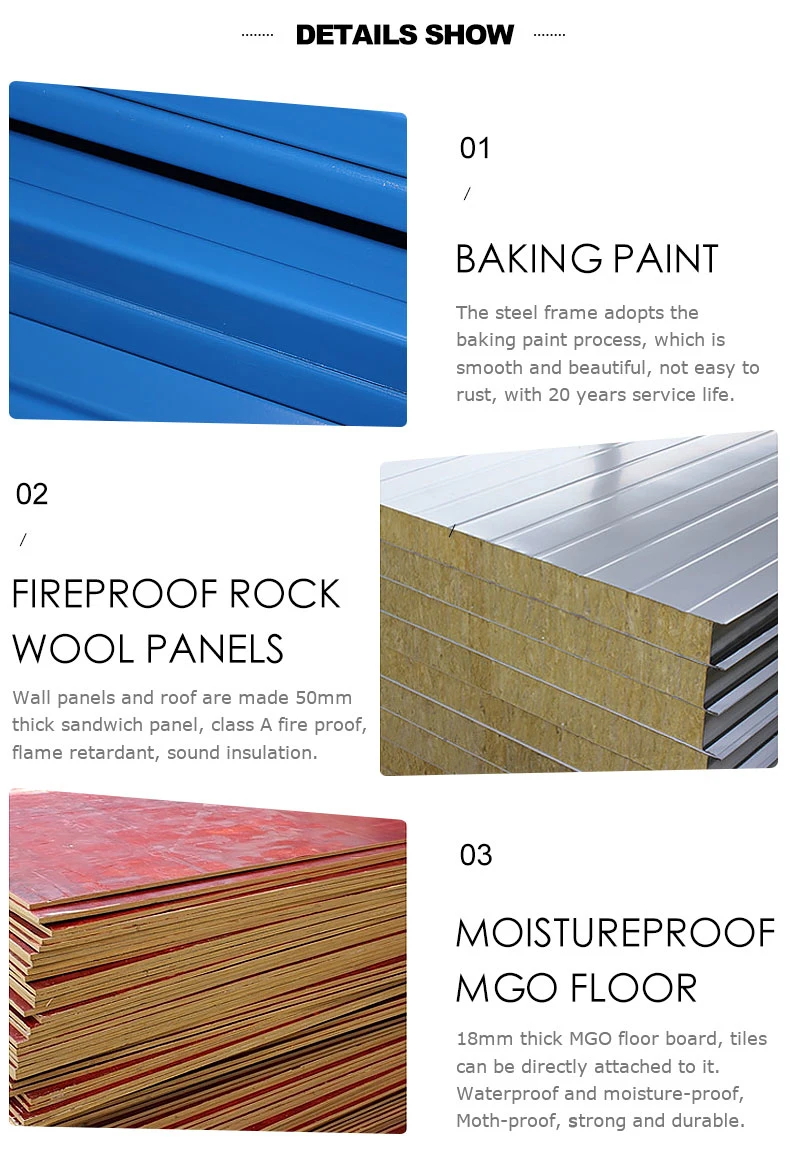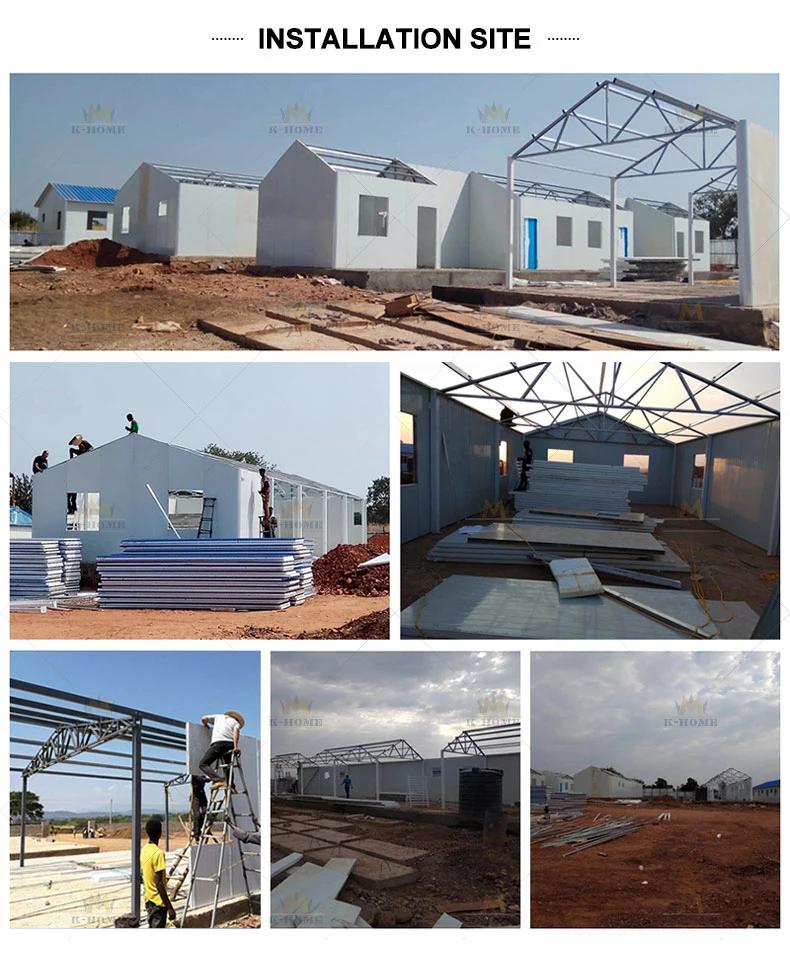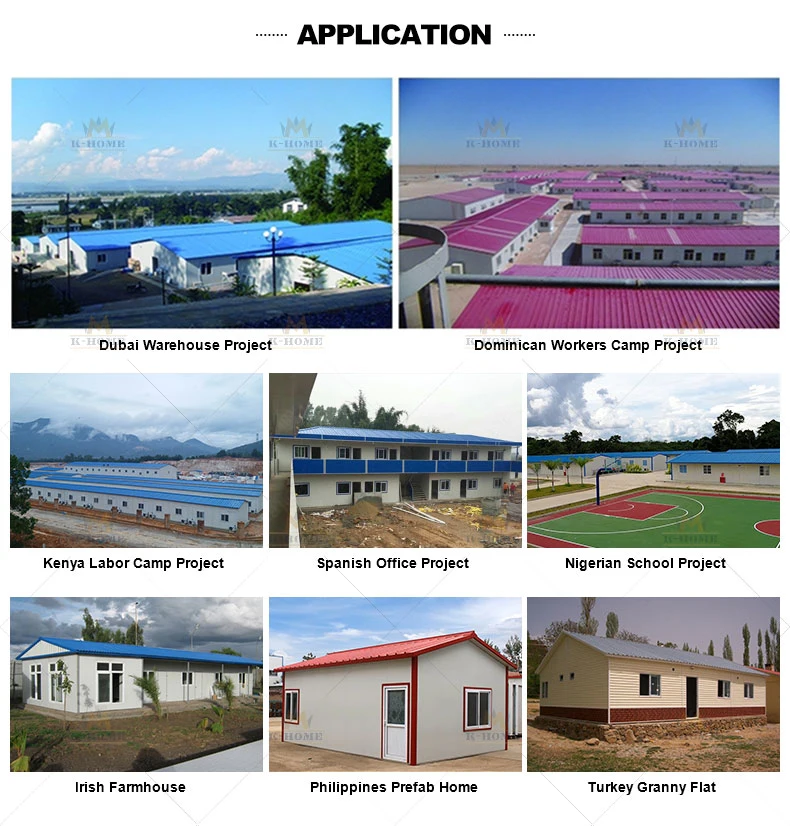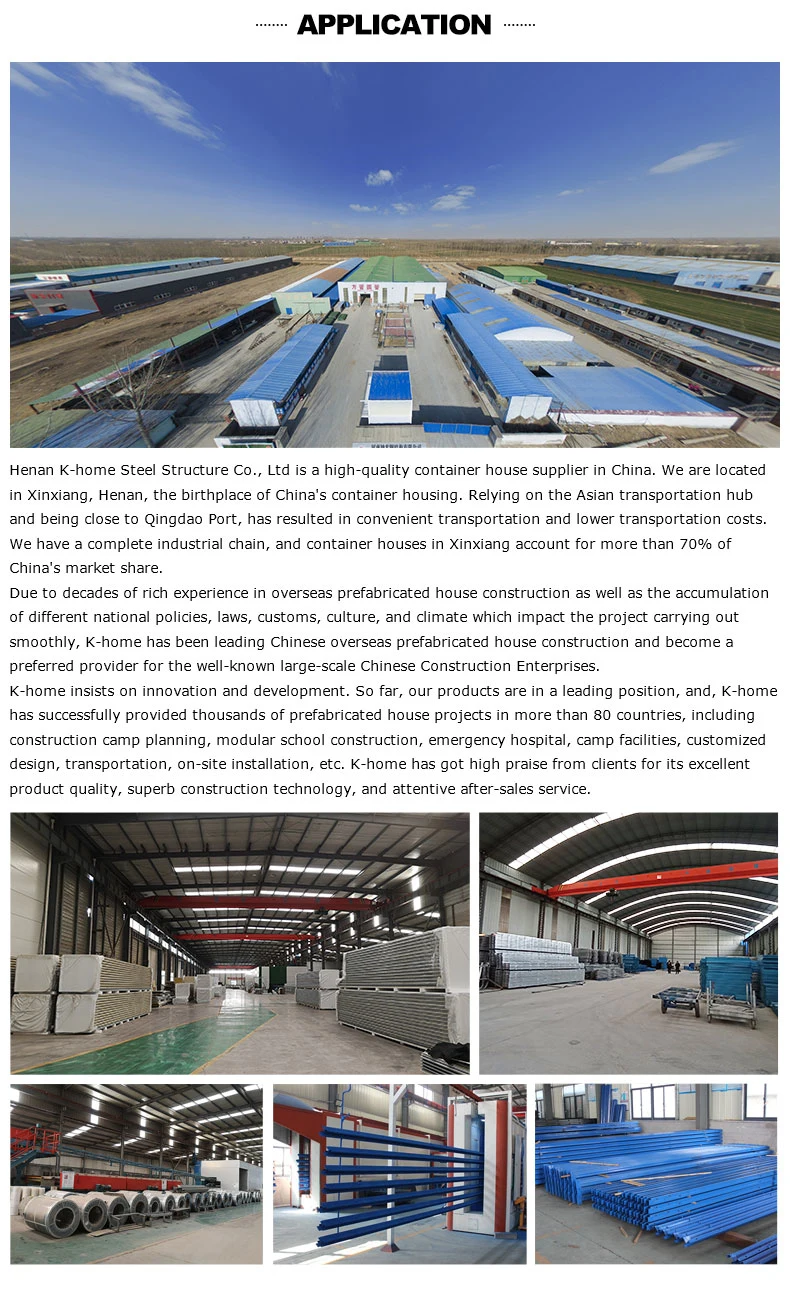 FAQ?
1. How can the products adopt to different climates)?
Strong wind region: improve the wind-resisting ability of the internal structure.
Cold region: increase the thickness of the wall, or use good insulation material, improve anti-pressure ability of the structure.
High corrosion region: use corrosion resistant material, or paint anticorrosive coating.
2. How long is the delivery time?
Regularly 7-15 days, this depends on quantity and products.
3. How can I get quotation of the projects?
If you have drawing, we can offer you quotation according to your drawing.
If you don't have, our engineer will design drawing for you to confirm and then offer you a quotation.

After sales service

K-home promises after sales service promises to provide after-sales service and maintenance for customers
Provide customers with detailed usage and maintenance manuals

Quality problems occur during using, communicate and solve actively

Committed to building a global network, better service for customers

Regular return visits and maintenance to customers