Luxury One Bedroom Prefab Container House Flat Pack Container Office and Dormitory
1.Product Description

Container house is designed and developed according to the standard size of shipping container. It is of heatproof and waterproof. It is widely used as office, meeting room, dormitory, shop, booth, toilet, storage, kitchen, shower room and so on.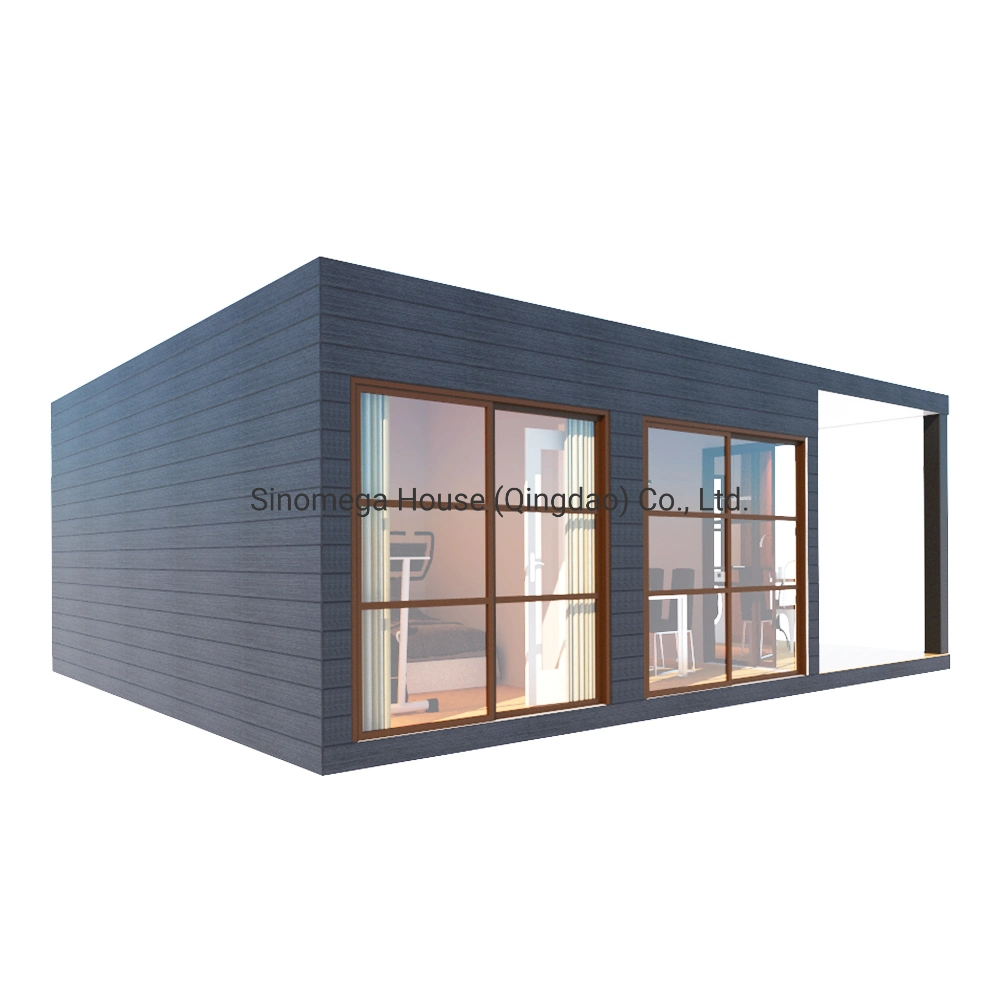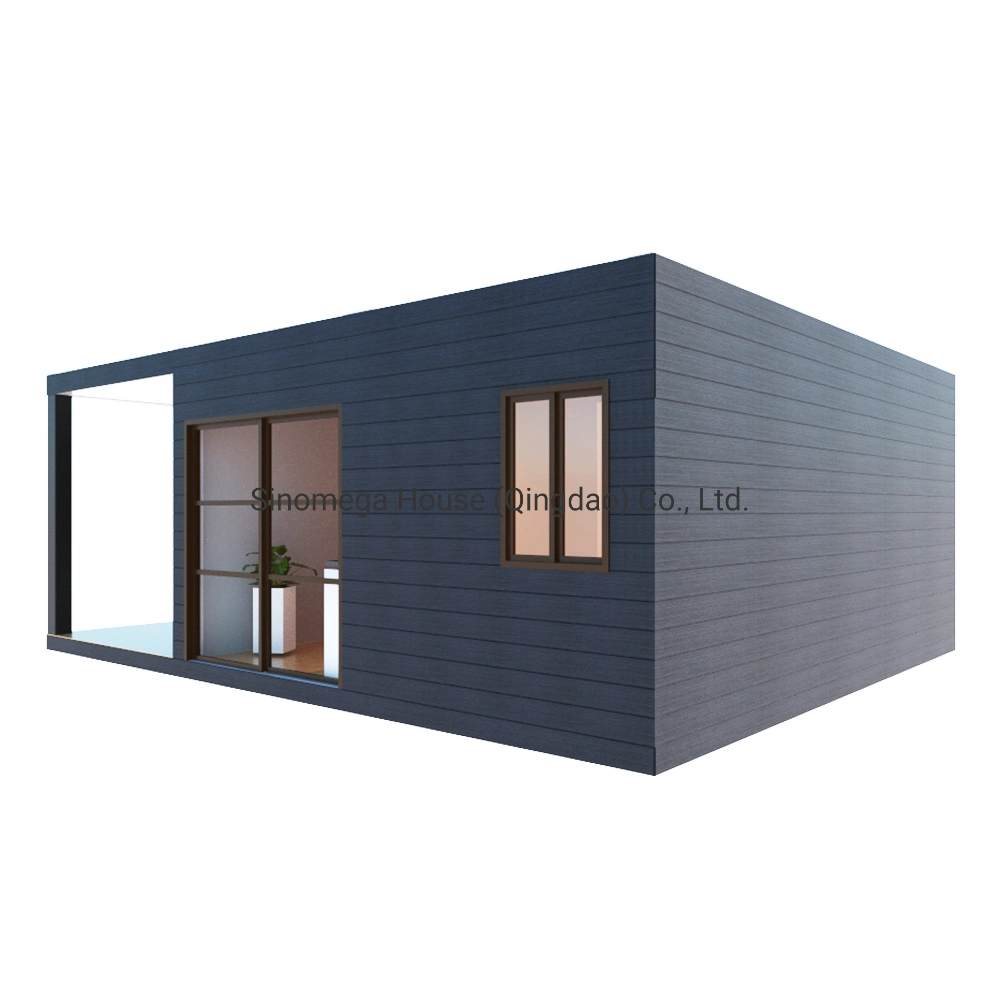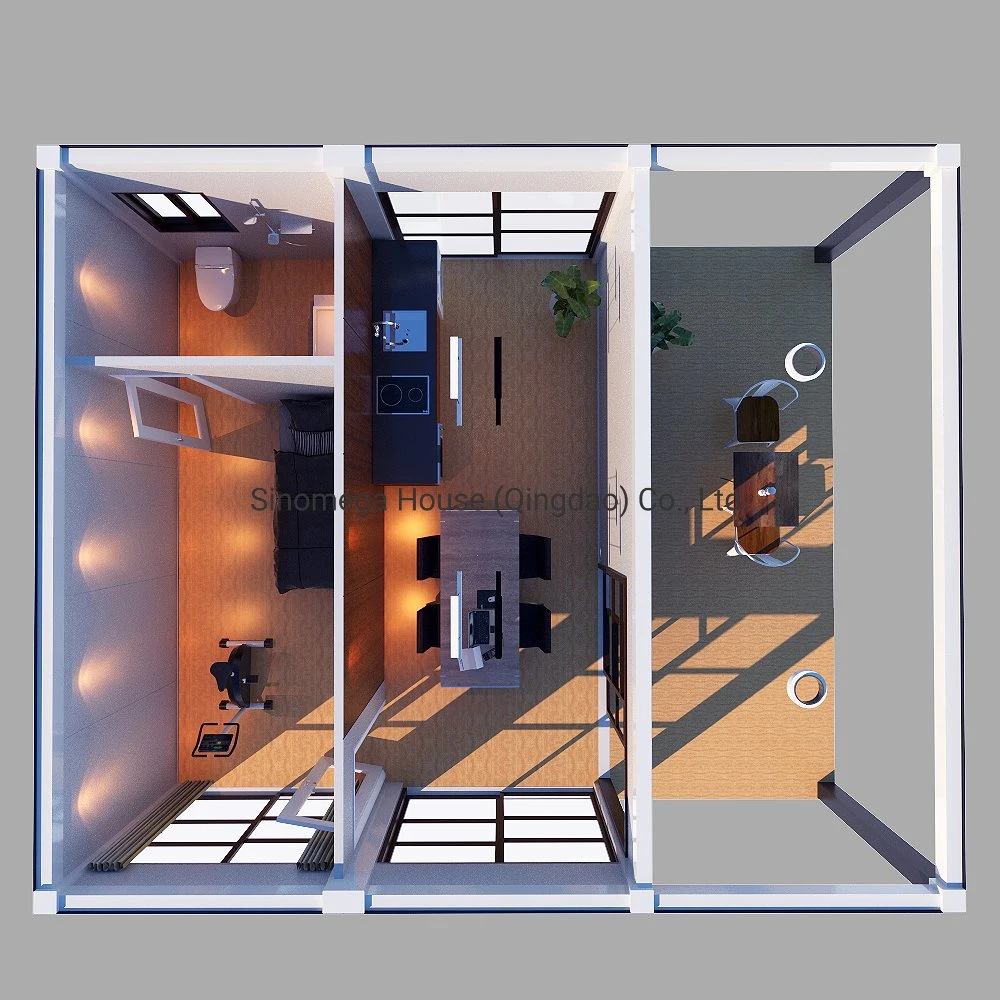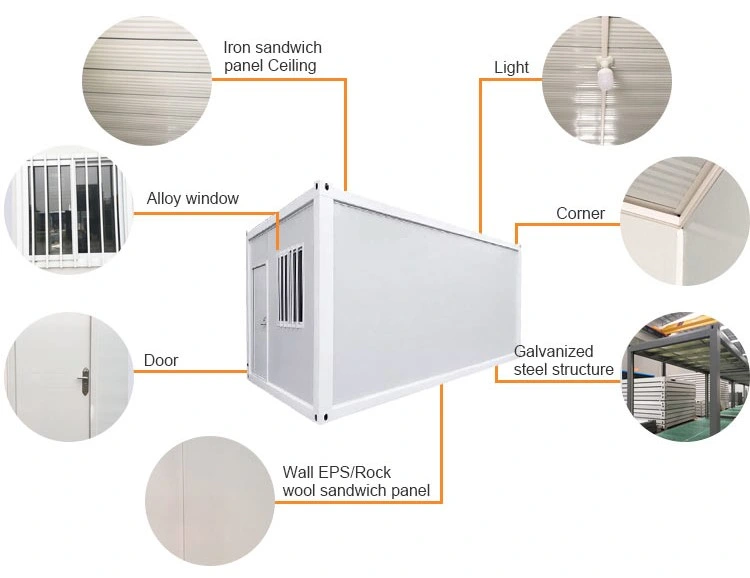 2. Structure Configuration: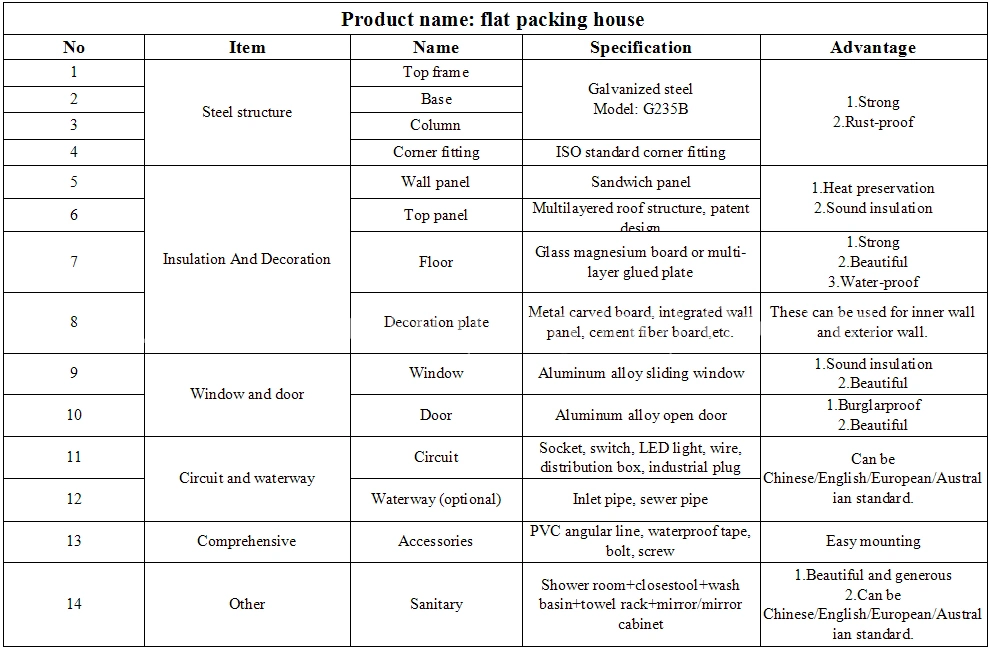 3. Main material: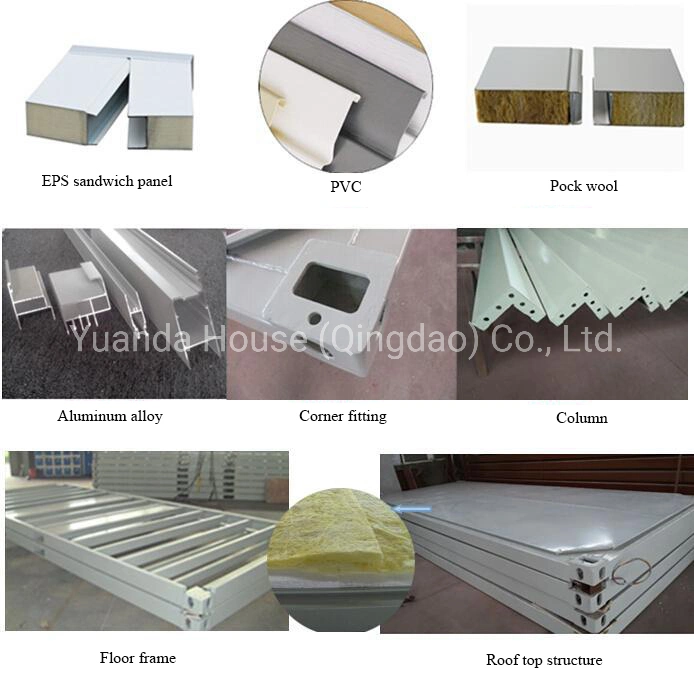 4. Package: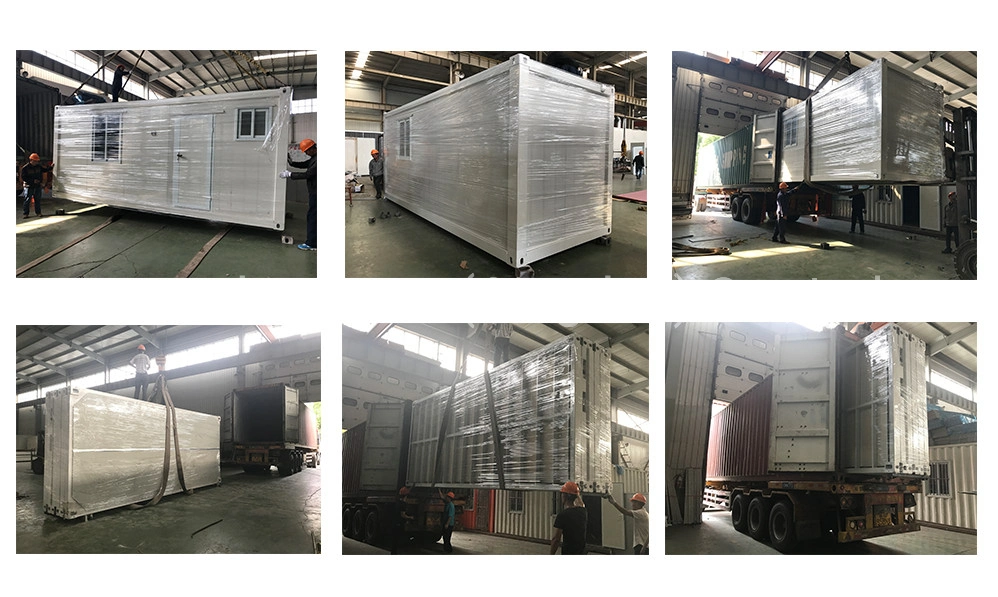 Compare Container House And Common House

* Container house can be use directly, no need installation, fast moving, can be reused so very economical and environment-friendly.
* Prefabricated container house is cheaper, needs to be installed locally but very fast, usually a 40HC container can hold 6-8 sets 6*2.5m prefab house.



Container House Advantages

Long life-span.up to 20 years.
Prefab, Pre installed electrical and plumbing,time saving.
Movable And Disassemble. Can be separately according to your requirements.Easy install, transport and relocate.
Economical and environment friendly .Short construction period and little workers, can be relocated with no waste.
Convenient transportation, can be transported as a shipping container, or flat packed.
High strength, Live load capacity of roofing: 0.5KN/m2. Second floor load capacity: 150kg/m2.Load bearing capacity greater than 40tons. Live load of corridor/ balcony/walkway is 2.0KN/m2
Waterproof, fireproof,seismic resist. Its wind resistance Grade 11 (wind speed≤ 111.5km/h) Earthquake resistance: Grade 7, External and internal wall heat transmission coefficient: 0.35Kcal /m2hc
Customizable.various design as per your preference.
Little requirements on ground. Being tough and flat is OK

Detailed Parameters

Size: GP20, GP40 and HP40 of shipping container
20ft portable container house specification: 6058mm*2438mm*2896mm
40ft portable container house specification: 12192mm*2438mm*2896mm
Customized dimension is welcome.Different size can be made by combine many container together.
20ft/ 40ft Modular Portable Container House Specifications
External size
6055mm(L) * 2438mm(W) * 2896mm(H) / 12116mm(L)*2438mm(W)*2896mm(H)
House corner
Prefabricated light steel
Roof panel
Rock Wool / EPS sandwich panel (according to customer requirement)
Wal
panel
Rock Wool / EPS sandwich panel (according to customer requirement)
Ground base
Prefabricated light steel


Basic
accessories
Window
PVC sliding windows or aluminium alloy window or plastic steel window
Door
streel sandwich panel or aluminium frame sandwich panel door.
False Ceiling
PVC ceiling
Flooring
Plywood
Electricity sys
2 lights & 1 switch
Optional accessories
Furniture for housing living, office, dormitory, Toilet, Kitchen, Bathroom, Shower, Etc.
Purchase Suggests1. The size you want,20' 40' or etc...
2. How many rooms do you need, bedroom, living room, kitchen, bathroom, toilet, balcony etc
3. Requirement of interior decorations etc
Packaging & Delivery
(1) Assembled loading and transportation
One 40ft HC load 2 sets assembled container house with dimension- 5850mm*2250mm*2500mm
(2) Flat-pack transportation:
Plan A: One 20ft GP load 4 sets 20 feet container houses
Plan B: One 40ft HC load 8 sets 20 feet container house or 4 sets 40 feet container house.
All panels are protected with PE film, and steel structure warped with woven belt. Accessories will be packed with paper box or plastic bags. Windows and doors will be packed with wooden box.
Installation service
*
Layout plan
can be designed if needed.
*
Installation introduction / CD / installation drawing
will be provided if needed.
*
Engineers and workers
can be sent abroad for guidance and installation.
All stuff have been preinstalled in the container and you just need put it on site ,connect to electricity and water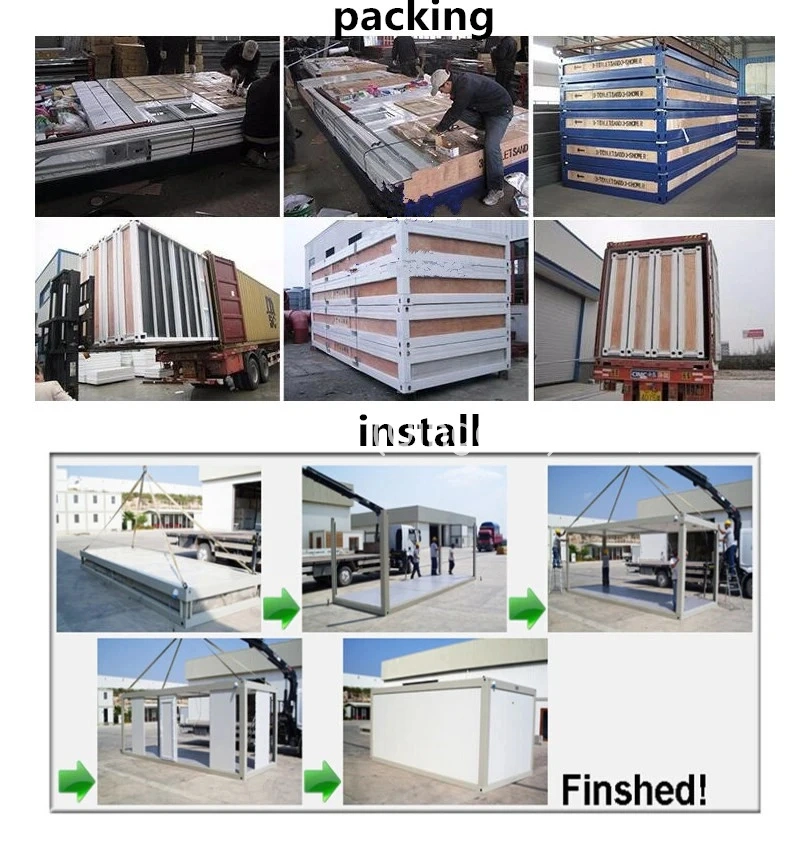 Description

Modular portable container house is designed according to specifications of shipping container exactly. It is made of prefab light steel as frame and sandwich panel for wall and roof, then facilitated with windows, doors, flooring, ceiling, and other additional accessories.They are fitted with power and lighting and can be accessorized to suit your requirements.
The house can be designed just as just one unit or connected to a whole from several boxes, by simple connection such as bolts. So it is easy and fast to be installed and disassembled. Save the time and money for you.

Wide Application

warehouse, storage, dormitory, kitchen, shower room, locker room, meeting room, classroom, shop, portable toilet,sentry box, mobile kiosk, motel, hotel, restaurant, and residential houses, temporary office, temporary hospital, dining-room, field and outdoor work station and so on.
FAQ
Q:Will the container leak?
A: Absolutely not. The top roof structure is Xiaoya patented design, which its Arched structure can drain automatically. Moreover, waterproof tape stuck on roof, and waterproof effect is better.
Q: How about the delivery date?
A:In general, 30-35 working days is enough.
Q: How about the payment?
A: By TT, 50% deposit in advance, the 60% balance before the delivery.
Q: What is the trading method?
A: FOB QINGDAO